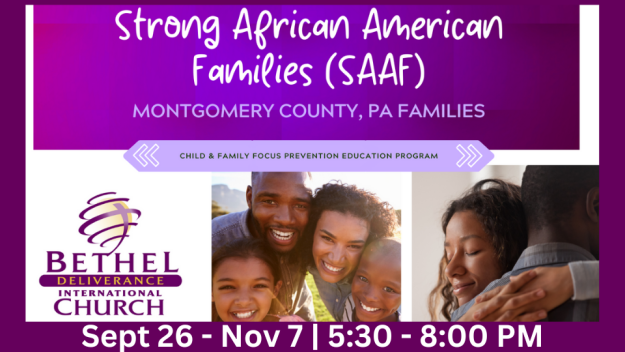 Strong African American Families Workshop
Every Tuesday, from 09/26/2023 to 11/07/2023, 5:30 PM - 8:00 PM
Bethel Deliverance International Church is hosting "Strong African American Families (SAAF), a culturally tailored, family-centered intervention for African American youth (ages 10-14) and their primary caregivers. SAAF's goal is to build on the strengths of African American families, caregivers, and youth by:
Enhancing family ability to support youth goals and independence
Helping youth to understand their positive qualities
Assisting youth in developing healthful goals and resistance skills to resist risky behavior
Strengthening family communication and interaction, necessary skills to resist risky behaviors
Developing greater self-esteem and confidence
Enabling effective use of coping skills
Youth who participated in SAAF demonstrated fewer conduct problems, delayed the onset of sexual activity, and were less likely to start using drugs! If you would like to join the next SAAF cohort, please contact Pastor Wayne Diggs at , Stephanie Johnson at , or see them after morning service in the Narthex.