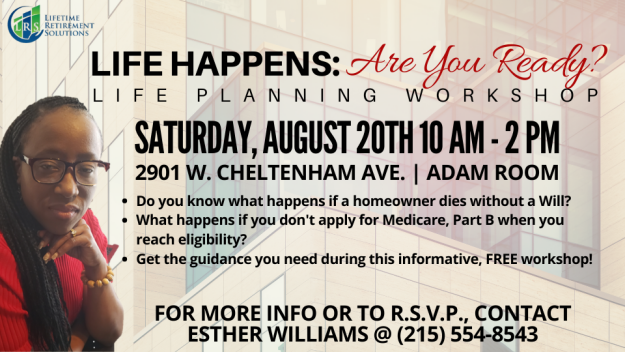 Life Planning Seminar
Saturday, August 20, 2022, 10:00 AM - 2:00 PM
Do you know what happens if a home owner dies without a will? What happens if you don't apply for Medicare, Part B when you reach eligibility? Get the guidance you need during the "Life Happens, Are You Ready" life planning workshop. Lifetime Retirement Solutions, in collaboration with Bethel Deliverance International Church, is offering this free workshop to help you plan for your future. The next session takes place on Saturday, August 20th at 10 am in the 2901 Building | Adam Room. Come and receive valuable information for you and your family.
Topics covered:
Probate in PA
Long Term Care Planning & Financial Options
Medicare & Social Security
For more info or to RSVP, call Esther Williams at 215-554-8543.