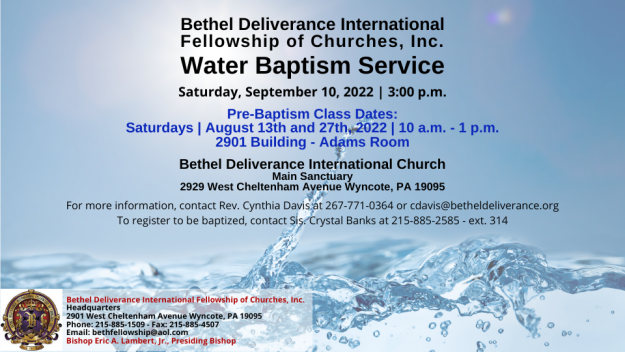 BDIFC Baptism Service
Saturday, September 10, 2022, 3:00 PM - 6:00 PM
Bethel Deliverance International Fellowship of Churches, Inc. is hosting a Water Baptism Service on Saturday, September 10th at 3:00 p.m. If you would like to be baptized, you must register and attend pre-baptism classes.
To register for baptism, please contact Sis. Crystal Banks at 215-885-2585, ext. 314.
Pre-Baptism classes scheduled for Saturdays, August 13th & 27th, 10 a.m. - 1:00 p.m.
For more information, please contact Rev. Cynthia Davis at 215-771-0364 or by email at