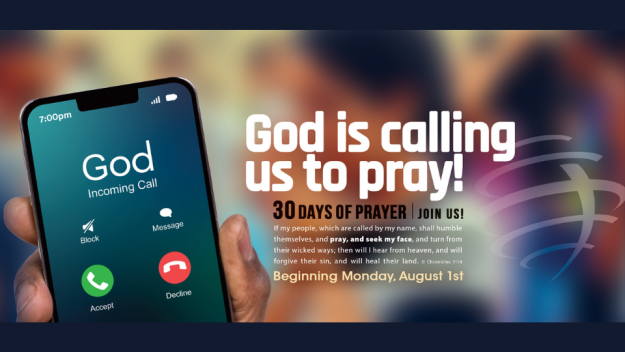 Month of Prayer
Monday, August 01, 2022, 7:00 PM - Wednesday, August 31, 2022, 8:00 PM
GOD IS CALLING US TO PRAY!
Join Bethel Deliverance International Church for
30 DAYS OF PRAYER
Month of August
Beginning Monday, August 1st
"If my people, which are called by my name, shall humble themselves, and pray, and seek my face, and turn from their wicked ways; then will I hear from heaven, and forgive their sin, and heal their land." II Chronicles 7:14
Pray with us each evening from home 7-8 p.m. On Fridays, we will gather together for corporate prayer at 7 p.m. in Bethel's Main Sanctuary. NOTE: Wednesday Night Prayer and Bible Study will continue, as regularly scheduled.
If you would like to join in for group prayer, prayer conference lines will be available:
| | |
| --- | --- |
| Conference/Prayer Line #1 | Local# 1(609)746-1155 Access Number: 501206 |
| Conference/Prayer Line #2 | Toll Free# (844)844-0080 Access Number: 501206 |
| Conference/Prayer Line #3 | (267) 807-9559 Access Number: 235974 |
Conference/Prayer Line Ground Rules – Parameters
Be on time for prayer - Tardiness disrupts the flow of prayers.
Mute your device so everyone can hear.
Be respectful, kind, and courteous.
Unmute yourself to answer questions and group discussion.
Let's stay with the flow of prayer and wait for the Lord to direct.
For any detailed and complicated questions, write them down and attend the Discipleship Lab.
Download Bethel 30 Days of Prayer Guide