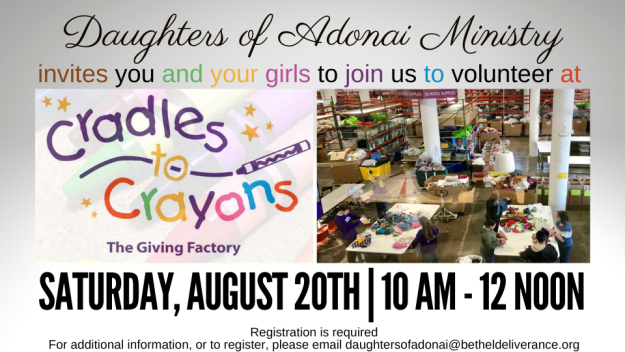 Daughters of Adonai "Cradles to Crayons" Volunteer Event
Saturday, August 20, 2022, 10:00 AM - 12:00 PM
Daughters of Adonai invites you and your girls to join us to volunteer on Saturday, August 20, 2022, 10 AM - 12 Noon, at Cradles to Crayons: The Giving Factory | 4700 Wissahickon Ave, Suite 142 | Philadelphia, Pa 19144.
The mission of Cradles to Crayons is to provide children from birth through age 12, living in homeless or low-income situations, with the essential items they need to thrive--at home, at school and at play. In support of this charitable organization, we are asking for donations of diapers and baby wipes, which can be dropped off in the donations bins located in the Main Sanctuary (before or after service) and the 2901 building (during normal office hours). Donations accepted July 31 - August 14, 2022.
Registration is required, as we have space for at least 15 girls and 5 adults. Please help us donate our time for this great cause.
For additional information or to register, please email us at .