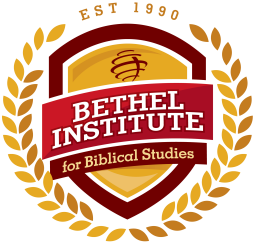 VISION
Bethel Institute for Biblical Studies was founded as an outreach of the Church's desire to build disciples. Our institute's focus is to provide proper training and development for God's people for discipleship. We offer classes on a variety of subjects and teach with life application as our goal. Proper Bible instruction is vital to the fulfillment of God's command to Bishop Lambert to make disciples. Disciples are only made as the word of God is understood and applied to the daily lives of the believers.
MISSION
At B.I.B.S. we are committed to teaching the principles of Christian growth and development and sound Bible doctrine. (2 Timothy 3:16)
STAFF
Our staff consists of Spirit-led instructors who are committed to excellence. These dedicated Christians are sincere in their desire to teach Bible doctrine. They volunteer their talents and gifts to the ministry of teaching for the well-being of mankind.
OVERVIEW OF CLASSES
Our curriculum consist of classes from Basic Bible for our new Christians to a study of Books of Daniel & Revelation for the more seasoned Christian.
If you would like to attend Bethel Institute for Biblical Studies, please call (215) 885-2585 x310.
Ministry Leadership: Cornell McCoy or Dr. Douglas A. Powell
Voicemail Extension: Ext. 310 for Dr. Powell
Registration for the Spring Zoom Engagement class: "Understanding Overpowering Faith" is now open! To enroll in this 5 week class please visit: https://secure.gradelink.com/1017/enrollment
Class begins May 22, 2023 at 6:30 pm.
Download Spring 2023 Schedule