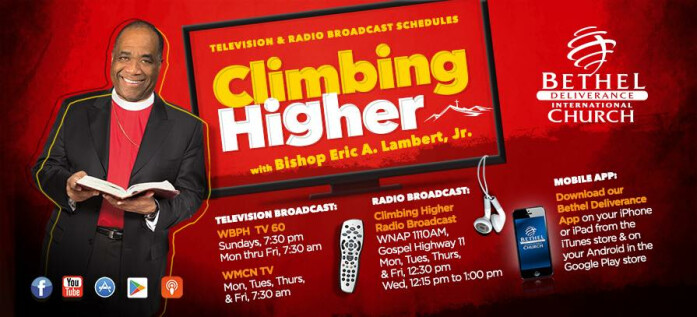 Media Ministry Department
The Media Ministry ensures that BDIC's mission of declaring the Gospel to the world is presented and distributed locally and nationally through all available media platforms. Our progressive media platforms include television, radio, Facebook, Instagram, YouTube and the Bethel Deliverance International Church App.
Climbing Higher Audio and Video Ministry
The Climbing Higher Audio and Video Ministry is responsible for the production of all audio and video resources of BDIC. The Ministry works to integrate new technology to enhance Bethel's worship experience, provide consistency in the reproduction of gospel messages on various media formats and support Bethel's music and drama ministry.
Order Processing Department
Our Order Processing Department fulfills requests for CDs, DVDs, and books authored by Bishop Eric A. Lambert, Jr. All customer concerns are addressed and resolved with care through our dedicated representatives. If you have a question about available media products or would like to place an order, please contact 215-885-2585 ext. 315.