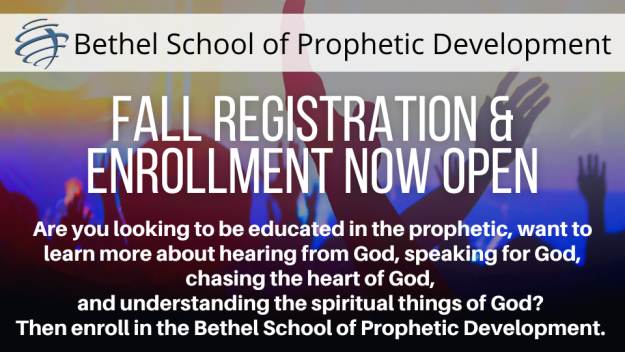 Bethel School of Prophetic Development - Fall Semester 2022 Registration Now Open
Sunday, August 14, 2022, 10:00 AM - Monday, September 12, 2022, 6:00 PM
Are you looking to be educated in the prophetic, want to learn more about hearing from God, speaking for God, chasing the heart of God, and understanding the spiritual things of God? Then enroll in the Bethel School of Prophetic Development!
Bethel's School of Prophetic Development was established to educate people in the Biblical functions of prophets and prophetic people, and train those so designed. Specifically, we seek to identify those who walk in the office of "Prophet", according to Ephesians 4:1; foster unity among prophetic people within the local church and among the Fellowship; assist in the integration of the prophetic into the natural functions of the local church, and establish and support the Bethel Company of Prophets.
We are now accepting applications for the 2022 Fall Semester. If interested, please download, complete and return your application to the church office, attention Kris Oliver.
To register for classes offered Fall Semester 2022
For additional information, please contact:
Kris Oliver, Director
(215)885-2585 x421